Contact Us
(248) 692-4244
ReVisioned did a fantastic job on the exterior of our house! We could not be more pleased! We changed the color to coral, found a picture of the colors we wanted and Jason and Jen found the perfect paint colors to match. Our house is wood siding and needed repairs in some spots and Jason took his time up front to get everything in the quote, so there would be no surprises once they got going. Jason kept in good contact with us throughout the project and our 2 man crew were great! Shout out to Pedro and Raymundo! I would give them 10 stars if I could!!!
Doug Bishop
July 13, 2022.
Jason and his team were selected to paint our exterior brick. Jason provided so much input on every step of the process. He had quick and thorough answers to all of our questions. He hit all of the deadlines we discussed. The crew that did the work arrived early, worked the entire day and completed the job efficiently. Other than the great results of the job, we would not have even known they had been at our home. The results exceeded our expectations. Thanks Jason, and thanks to the entire ReVisioned team!
Highly recommend Revisioned Painting! Jason and Jen were great to work with . . . Very professional, good communication and appreciated the time they spent on a color consultation prior to painting. Their crew was very neat and our house looks great. Excellent job!
Kari Fedewa
July 5, 2022.
It was such a delight to work with Jason and Jen from Revisioned Painting, along with their skillful group of painters. We heard about them from a Facebook ad and within 15 mins of our inquiry we received a return phone call. On his first visit, Jason spent an hour with us going over our project and the areas that would need repair. My husband and I were so impressed we hired him on the spot. Jen helped us select colors for our Tudor home. Our project ended up being completed almost a month early, which worked great for us. The 3-person crew of painters did a fantastic job repairing damaged wood. They didn't even mind my sons "supervising" their work. I highly recommend Revisioned Painting for all your painting needs!
Ellen zalupski
June 3, 2022.
Great experience working with ReVisioned (Jen and Jason) very happy with the final outcome. They did a wonderful job and helped me explain multiple times and also helped in color selection. Highly recommend them!
Bernie Brown
May 3, 2022.
Really enjoyed working with Jason and Jen to get the exterior of our house painted. Jason was very knowledgeable during the quote and gave us confidence it would be done right. Jen's color consultation was helpful in narrowing down to the exact color we were looking for. They both communicated great during the process, and the house looks fantastic. Thanks!
Steve Bammert
May 2, 2022.
Jason, Jen, and the ReVisioned team did an exceptional job on the exterior painting and siding repair of our home. I would highly recommend using ReVisioned for your exterior painting needs.
Laurie Lee
December 16, 2021.
Jason, Jen and their crew did our house's exterior painting several months ago. Jason demonstrated professional customer service skills since we first met. He listened well, provided us with his professional feedback and answered all our questions and concerns with patient. The free color consultant service led by Jen was very helpful to start our color picking process. The team that worked on our house was very easy to work with and did a beautiful job on our house. We had many wood damages on the trims and they made great repairs for us. We are very happy and satisfied with the outcome.
Pushpa Gautam
October 19, 2021.
We hired ReVisioned Exterior Painting LLC, for our house painting. Jason gave us the written quote for the job. He showed up on the given date and finished on time, walked us through the job after it was done and fixed anything that was missed. He also helped us pick up the right color by painting sample trims, showing exactly how each color would look. We are very happy with the result. Very professional and highly recommended. There are other contractors who will never stick to the schedule or what was quoted.
At ReVisioned, Exterior painting is our specialty. We paint over 100 homes each Spring/Summer in the Metro-Detroit area. Our painter's expertise, along with our commitment to providing excellent customer service, has provided hundreds of satisfied clients throughout our community.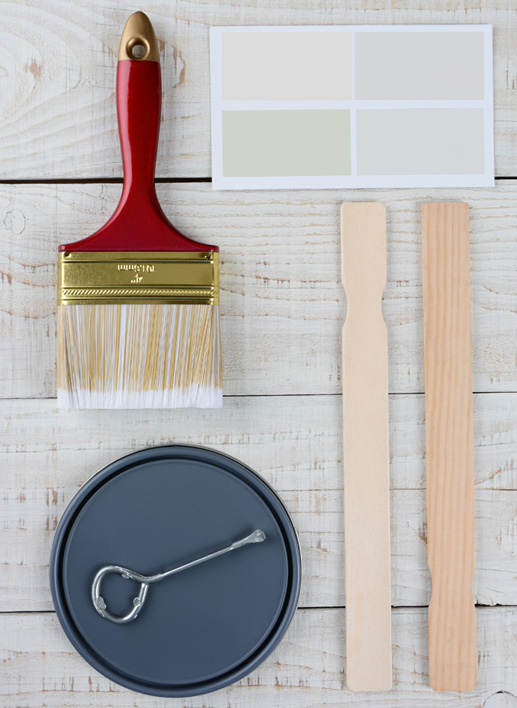 ReVisioned is a Full-Service Residential Painting Company Specializing in:
Exterior Painting
Brick Painting
Hardie Board Siding Installation
Color Consulting
Interior Painting
ReVisioned
Exterior Painting

The number of choices you have when choosing a company to paint your home can be overwhelming. We realize this is an expensive investment in your home and we strive to provide service and value to you that will set us apart from others. These services include the following:
FREE Personalized Estimate – Your job is customized to fit your wants and needs. We will examine your home and go over the recommended steps that will ensure a long-lasting paint job, including repairing or replacing rotten boards, scraping loose paint, and resecuring loose gutters. This detailed evaluation is an important first step to ascertain all appropriate steps are taken and all of your concerns are addressed.
FREE Color Consultation with our Certified Color Consultant – free with any booked exterior painting services.
FREE Virtual Color Visualizer- Let's you see what color changes may look like on your home. Free with booked exterior services.
Experienced painters who specialize in Exterior painting.
Assigned Project Manager available to you to contact with any questions or issues every step of the way.
Reliability – We work to finish your project promptly. We do not begin a job and leave it unfinished for weeks on end, while we work on other projects. We work to finish projects promptly once started (weather permitting).
Final walk through to be performed by client upon completion, prior to painters leaving.
Honest and Trustworthy – These are the guiding principles in which we operate. Our clients trust us to provide honest and trustworthy communication and services at each phase of the project.
Brick Painting: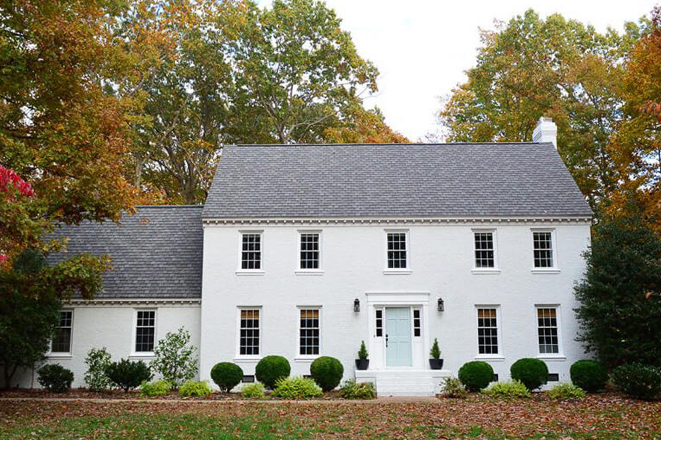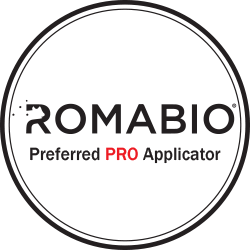 ReVisioned is excited to announce that we are now a ROMABIO Preferred Pro Applicator! Painted brick can be a great way to update your home's exterior and Romabio Masonry Flat is the premium product for the job.
Love the look of painted brick, but scared of the upkeep or potential issues? ReVisioned is proud to introduce ROMABIO Masonry Flat as the optimal solution. Romabio is a revolutionary premium masonry product especially made for longevity and your peace of mind. Made in Italy, Romabio Masonry Flat removes common problems homeowners have experienced in the past with painted brick. Unlike regular latex based paint, Romabio is an Italian mineral masonry paint that calcifies to the brick, allowing it to breathe. This eliminates potential issues such as trapped moisture, peeling paint, and ongoing maintenance that can occur when brick is painted with regular latex paint. When applied properly, Romabio Masonry Flat is virtually MAINTENANCE FREE and comes with a 20+ year warranty.
Masonry Flat is a high-performing, mineral masonry paint made for extreme durability for the interior or exterior. A beautiful, permanent flat finish that is naturally mold resistant, toxin-free, and environmentally friendly. Mineral paints are breathable and calcify to the masonry surface allowing moisture to release creating a longer lasting finish with low maintenance.
Visit Romabio.com for additional information, or see below for more information taken directly from their website:
PRODUCT DESCRIPTION
Masonry Flat is a high-performing, mineral masonry paint made for extreme durability for the interior or exterior. A beautiful, permanent flat finish that is naturally mold resistant, toxin-free, and environmentally friendly. Mineral paints are breathable and calcify to the masonry surface allowing moisture to release creating a longer lasting finish with low maintenance.
Ideal for brick, stone, stucco, and cementitious siding
Will not chip, peel or flake off
20 Year warranty, if applied properly
2 coats, no additional primer for unpainted, absorbent masonry
Pressure wash and paint on the same day as masonry surfaces must be dampen
SURFACE TYPE
Interior/Exterior Absorbent, Unpainted Brick & Stone (No Primer needed); Unabsorbent Or Glossy Brick/Hardie Board/Cementitious Board/Concrete/CMU Block/ Portland or Gypsum Stucco (BioGrip Micro Primer)
Contact Us today to inquire further or to Schedule a FREE Estimate.
Hardie Board Siding: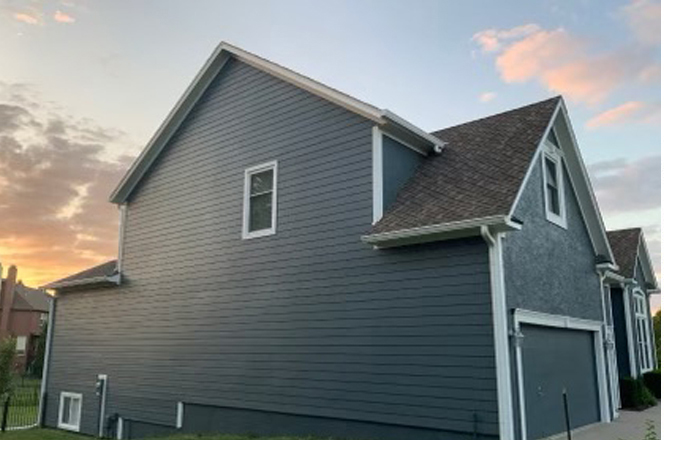 Houses built before the early 2000's are starting to have serious deterioration issues with the LP composite and wood siding. In addition, painting your home's exterior every 8-10 years is a costly, yet required maintenance in order to prevent further damage to your wood/LP sided home. James Hardie Fiber Cement Siding is a long term alternative to wood and composite, as it does not require replacement in the future.
Maintains the beauty and character of real wood products
Eliminates woodpecker and insect damage, along with rotting and weather damage
Fiber cement is fireproof and a permanent solution to recurring costly house maintenance
Available in an array of pre-finished colors or pre-primed and painted to any color of your choice, Hardie Board Siding adds value to your home, and eliminates maintenance.
Reach out to the professionals at Revisioned for a free project evaluation today!!
Why Choose ReVisioned?
At ReVisioned, we know there is no shortage of painting contractors from which to choose. So why choose ReVisioned to work for you?
Simply stated, Revisioned is founded on three fundamental principles that distinguish us from others:
1) Unrivaled service based on timely and thorough communication and customer satisfaction
2) Personalized service dedicated to your specific project by integrating such elements as color coordination and overall design, resulting in a total finished product
3) Affordable Pricing based on our smaller company size and lower overhead costs
Our clients have our full attention until the job is done and they are absolutely satisfied.
Contact Us
I believe, I believe every day is a good day when you paint.
Bob Ross
ReVisioned's Personalized Customer Service Experience
Our customer service revolves around our belief that a completely satisfied customer is the only acceptable result.
Step-by-step we will guide you through every phase of your project beginning with a Free In-Home Estimate, through completion of the finished product.
Contact Us
Our Process
During our initial meeting, we will define your needs and determine the extent of color or design services required for a total coordinated look. These services are included in your project and are just one of the many ways ReVisioned stands apart from every day painters.
Contact Us
We want to hear from you.
Whether you are in need of dependable painting experts to paint your home and would like to schedule a Free In-Home Estimate, have a question, or want to provide feedback, please fill out the attached form and we will get back to you
within 24 hours
. You can also reach us via email at any time.
We look forward to helping you ReVision your home.
128 Walnut St, Northville, MI 48167